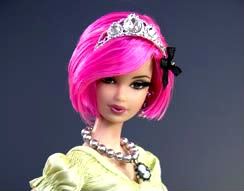 I recently read about 6 beautiful
Tarina
Tarantino
one of a kind Barbie dolls that will be auctioned for the charity
Clothes Off Our Back
. The auctions include a customized Collector Series
Tarina
Tarantino
Barbie Doll, customized Barbie® cars and
Tarina
Taranino
jewelry. You can view all the auctions
here
. I really love their names. Here is a list: Sparkling Star Barbie, Candy Cameo Barbie, Glam Rock Barbie,
Popstar
Barbie, Peace, Love, and Sparkle Barbie, and Hippie Princess Barbie. I think my favorite one is the Glam Rock Barbie. Well, it's really hard to pick a favorite! As you can see, each doll has her own distinct hair style and includes differently styled customized jewelry and a cute car or scooter to match! I wish the opening bids weren't so high, but it's for charity so it's worth it. Whoever wins these dolls is going to have a real
steffie
treasure!
In honor of these beautiful charity dolls, here is my newest Steffie. She is a Canadian hollow body, straight leg doll. She came dressed in varying outfits and is from the late 70s to early 80s. She is dressed here in a Fashion Fever Fashion from a Wave A Barbie.